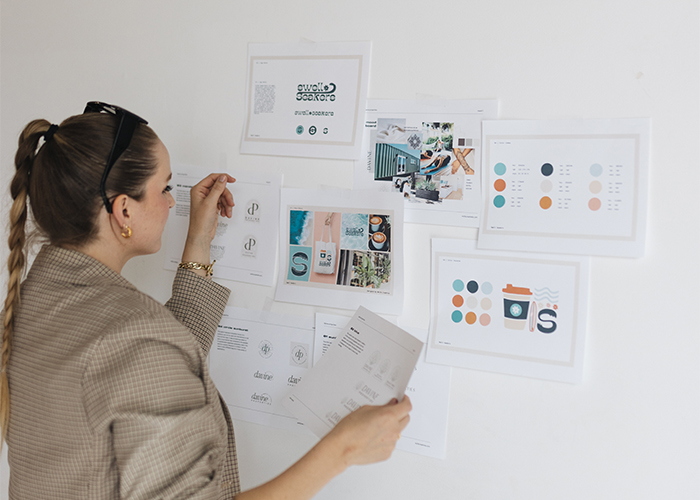 06 Nov

A Look Inside Our Design Process

As a creative agency, it is our job to take a client's vision and transform it into a visually appealing design that effectively communicates a brand message. Creating a successful design is a collaborative process involving our expertise, skill, and creativity as designers and our client's decision making skills and personal touch to make a brand their own. In this post, we will outline our key steps in the branding process and explain how each step contributes to the creation of a successful brand identity.
01 Initial Inquiry
This is where we introduce ourselves and our general services to potential clients. We use the initial inquiry to provide a brief overview of our experience, credentials, design style, services offered and to establish a relationship with the client. Inquiries may come in the form of emails, calls, DMs, texts or contact form submissions.
02 Discovery Call
The discovery call is where we further discuss your project and really get to know you and your project goals. This may be bundled in with the initial inquiry or it may exist as a dedicated call. We will clarify your vision for the project and any specific requirements, deliverables and preferences. This is also where we go over our design process and timeline to ensure that everyone is on the same page.
03 Outline a Contract
All of our contracts clearly outline the steps of the design process, a timeline for completing the project, terms of use & rights or ownership of the design, fees, deliverables and more. This will help everyone understand what to expect, and will provide a clear reference point for both parties during the project. Once the contract is signed and a deposit is paid, it's time to design!
04 Collect Materials from the Client
Once our project is officially a go, we will collect any necessary information and materials needed to develop and execute a design. This may include your company name, logo, brand guidelines, mission statement, etc. For branding projects we will discuss design styles, color & typography options, mood boards, and more. The more information you have upfront, the better equipped we will be to create a design that meets the your vision and is on-brand.
05 Develop Design Ideas & Create!
This is where the magic happens! We take your ideas, mood board, and vision to create initial drafts of one or several design ideas and present it to you for review and feedback. It is exciting to see your ideas finally come to life and this is where we love hearing your feedback! It is an important step in the process as it allows us to gain input to ensure the final design is on track to meet your expectations and captures what you envision for the project. Constructive criticism is always welcome as we value honesty and want to create something you truly love!
06 Rounds of Revisions
The revision process is where we incorporate the feedback you provided and make any necessary revisions to the design. This may involve trying out different color options, adjusting the layout, or tweaking other elements of the design. We ask you to narrow down the initial options to one design that we can focus on and perfect. This will ultimately lead to the final design.
07 Deliver Final Files
Once everything is perfected and finalized, we deliver the final version of the design in all popular file formats you will need to be successful. This will typically include formats such as JPEG, PNG, EPS and AI files to ensure the logo or design can be used in a variety of applications and by future designers, printers or anyone who may need it.
08 Wrap It Up
Once our project is completed, we like to follow up with our clients to ensure they are satisfied with the final design and to address any additional questions or concerns they may have. This is a good opportunity for us to gain feedback on our process, acquire testimonials if our client is willing to write one (we always appreciate it!) and to build a relationship with the client for future projects.
Following these eight steps allows us to ensure we will have a successful graphic design project every time and allows us to provide consistency with our service offerings. It also helps to make sure everyone is on the same page from start to finish and sets the tone for what to expect when working with us. Have any other questions about our process? Want to get started on your project? Contact us today to get started and bring your vision to life.