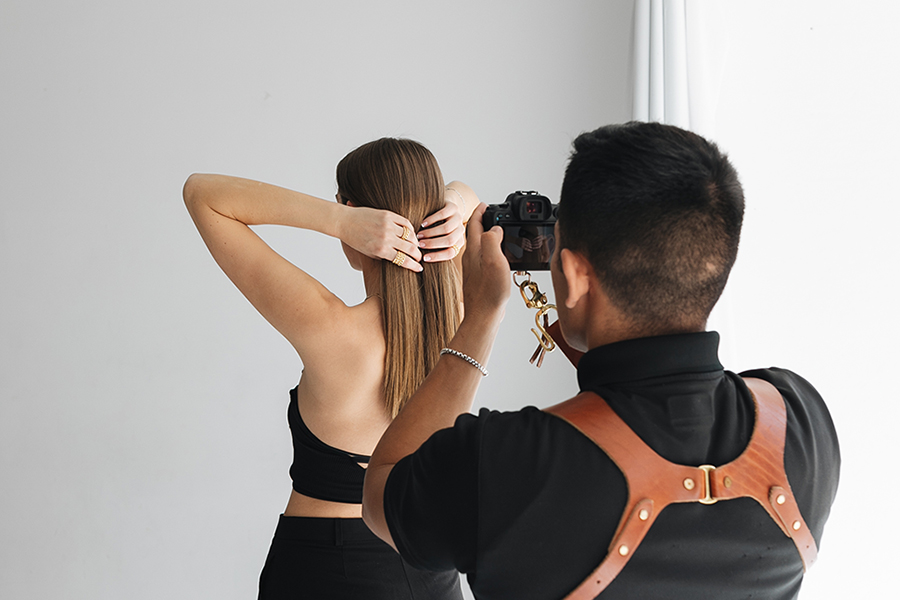 09 May

Behind the Scenes of our Branding Shoot with Dao Jones Media

Today we're sharing all the tea and behind the scenes from our branding shoot! In the era of digital dominance, mastering your brand's visual game is the secret sauce for success. A solid brand identity and quality imagery have a huge impact on your brand's overall appeal and likeability. One huge goal we had to level up Wolfe Creative this year was to do a proper branding shoot so we teamed up with Dao Jones Media at Gud Times in San Diego to make our dreams a reality. We're unveiling all the behind-the-scenes moments, exploring the significance of branding shoots, and offering our assistance in creating your own. And of course, to give a massive shoutout to our friend and incredible photographer, Dao, for flawlessly capturing our vision and bringing this shoot to life! Now let's get into it…

We spent the last year talking about doing a branding shoot for Wolfe Creative so when the opportunity arose to shoot with Dao and all the scheduling aligned, we knew we couldn't pass it up. We rented out an incredible natural light studio in San Diego, gathered all our best props and wardrobe and got to work planning this shoot of a lifetime. The vision had been on our mood boards on Pinterest for what seemed like forever and it was so exciting to see that vision manifest. We had four hours in the studio and used every minute to capture the content of our dreams. The team at Gud Times were so nice and accommodating and this space was incredible! They had so many pieces of furniture, props, backdrops, lighting and more. It was a dream to shoot here and we will definitely be back! If you're in the San Diego area, we could not recommend them enough.
The Importance of Branding Shoots
We couldn't put this blog post out without discussing the importance of a good branding shoot! Branding shoots are so much more than just striking poses and capturing imagery for your website. They are so important for your overall brand image and have a huge impact on how your audience perceives your business. Here's why branding shoots are like jet fuel for your biz:
Authenticity: In a world craving genuine connections, a branding shoot helps you show the real you and allows your audience to see your personality! Stock photos feel so stale and in-genuine and really don't allow your audience to get a feel for who you are. People want to know who they're working with when potentially hiring you so curating your own images help to tell your brand's story that capture the heart and soul behind your hustle.
Build Trust with Consistency: When your visual game is on point, people notice. A branding shoot ensures your images align with your brand's style, so you stand out and become instantly recognizable. This consistency builds recognition and reinforces your brand's credibility.
Make it Personal: Who doesn't want to be the cool kid on the block? A branding shoot helps you flaunt your unique qualities, personality, and perspective, offering a fresh perspective over the competition.
Endless Cohesive Content: Instagram, Facebook, TikTok—your brand needs to shine on these platforms. A branding shoot provides endless shareable content that'll have your followers double-tapping and commenting with heart-eye emojis. The images captured during a branding shoot can be utilized across various marketing channels, including websites, social media platforms, print materials, and advertising campaigns to ensure your brand's visual elements are cohesive and impactful.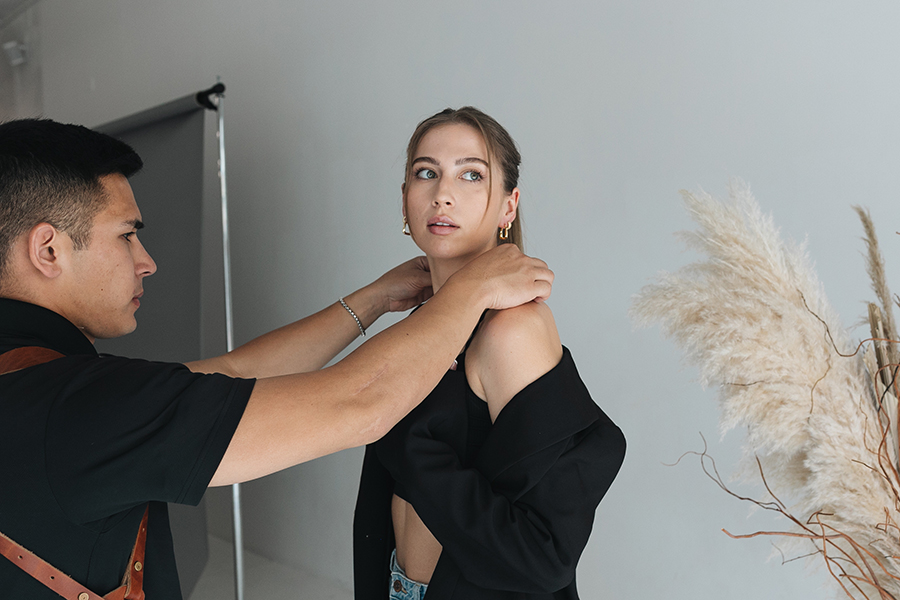 We were so excited to be teaming up with Dao Jones Media for this shoot and working with him is always an amazing experience! Dao's expertise and creativity added immeasurable value to our branding shoot and the images produced perfectly captured our vision. We greatly appreciate the passion and professionalism he brought to the project, and we highly recommend his services to any business looking to elevate their visual identity! You can check out his website here.
Need Help with Your Own Branding Shoot?
At Wolfe Creative, we understand the transformative power of a branding shoot, and we're passionate about helping businesses unlock their full potential. Here's how we can guide you to make sure your own shoot is a success:
Vision and Strategy: We work closely with you to understand your brand's essence, target audience, and marketing goals. By aligning our vision with yours, we ensure that every photograph captured reflects your unique identity.
Creative Direction: Our team of experienced professionals provide guidance and expertise in developing a concept and curating locations, props, and styling elements that align with your brand. We will be there with you on shoot day to make sure the vision comes to life!
Collaboration and Connection: We believe in teamwork, and that includes YOU. We want your shoot to be a collaborative effort, where you bring your ideas to the table. After all, who knows your brand better than you? We foster a collaborative atmosphere allowing your team to actively contribute and ensure that the final images truly represent your brand's values.