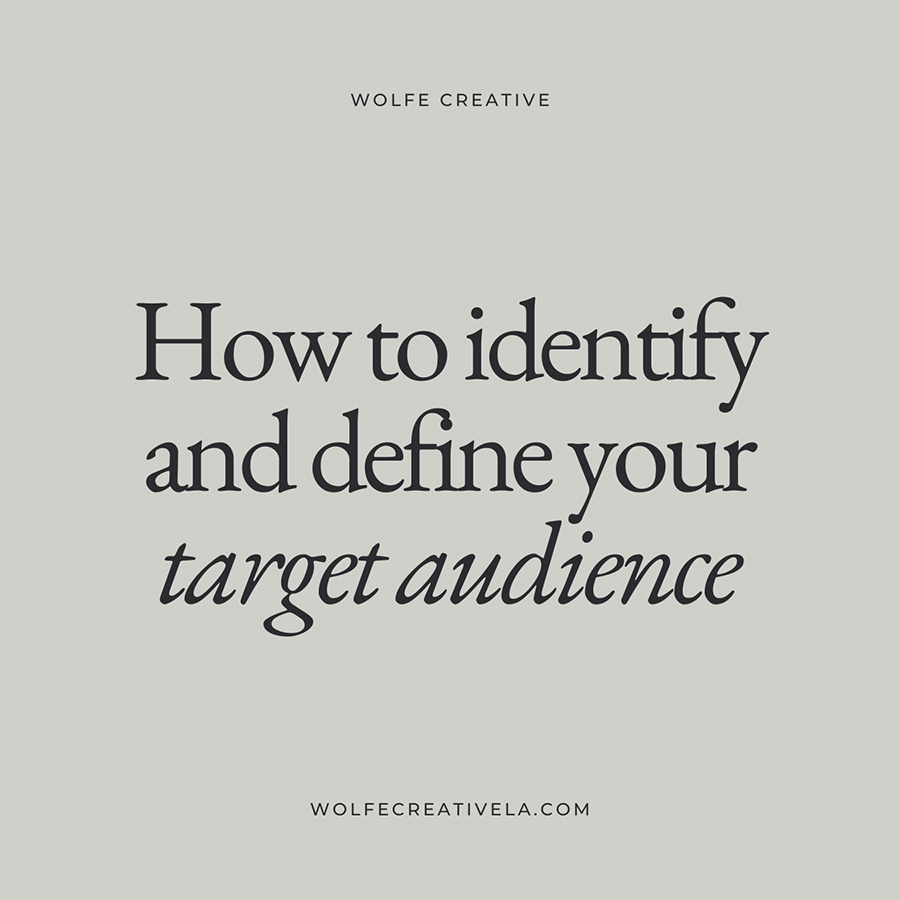 15 Jun

How to Identify and Define Your Target Audience

Today we're breaking down how to define your target audience!! Your target audience plays a huge role in the foundation of your marketing/social strategy and plays an important part in your overall business plan and branding! Because it plays such a big role in your business, it's important to clearly define who your target audience or dream client is! This will help you stay on brand with your marketing efforts and push you closer to landing those ideal clients and projects. If you haven't taken the time to map out your target audience, this blog post can act as a guide to help you do it! Grab a pen and paper and follow these six steps to defining your dream client… so then you can go out and land them!
Demographics
It's important to consider factors such as age, gender, income, education, and location which can provide valuable insights and help you define your target audience. Try to be specific as possible when thinking about who your dream client is. Is she a woman in her 30's who lives in the city, has a full time job & little extra cash to drop each month, and is interested in fashion & beauty? Or is he your dad's friend who's close to retirement, an empty nester in the suburbs, is winding down a career in tech and loves to golf? These are two very different people with very different backgrounds, lifestyles, values and budgets so it's important to keep these things in mind when targeting your audience online. For example, Titleist and Aritzia are two very different brands with very different consumer demographics so you would not market each of these brands in the same way.
Interests and Behaviors
Understanding the interests and behaviors of your target audience can help determine the type of content that will best resonate with them and the best communication channels to reach them. In the real world, you would interact with a friend, a grandparent, a coworker, a child or a stranger all in different ways  and these types of people would all have different interests, behaviors, core values, life experiences etc.. It's important to understand who you're speaking to online so you can curate the best strategy to approach them. 
Pain Points and Challenges
What problem does your product or service solve? Identifying the pain points and challenges that your ideal consumer faces can help create content that addresses those specific needs and provides solutions. If you can solve a problem for your client it will be much easier to convert!
Values and Beliefs
Understanding the values and beliefs your target audience holds can help shape the brand messaging and tone of voice used in all methods of communication. Ask yourself if their core values and beliefs align with the messaging your brand is putting out. It's also important to be true to yourself as a business owner when developing your voice and messaging as it will create a more authentic experience for your audience.
Buying Habits
Understanding buying habits can help you target promotions and offers based on the habits of your audience, such as their preferred shopping channels or purchase frequency. There are so many avenues today when it comes to making sales and it's important to understand how your customers like to shop. Do your customers prefer brick and mortar vs online? Do they want to talk to someone over the phone, text, or have zero social interaction in order to complete the purchase? If shopping online, do they want to shop direct on your site or do they also love Amazon, Instagram shopping, or do they have a favorite retailer?
Communication Preferences
Knowing how your clients prefer to communicate (e.g., email, social media, phone, etc.) can help determine the best channels and tactics to reach them! It's important to hit several channels but not spread yourself too thin. You don't have to do it all to communicate effectively, you just need to reach your clients in the way they prefer to be reached!