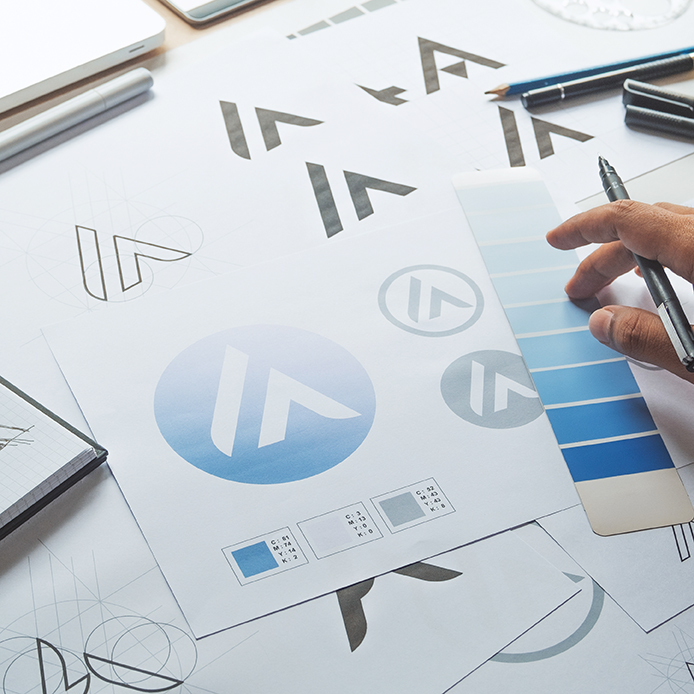 22 Sep

5 Reasons to Invest in a Professional Design Agency

Branding is an important aspect of any business, and a strong brand identity can have a significant impact on your success. Investing in professional branding from the start can give your business a solid foundation and increase trust and credibility with potential clients and customers. We understand it can be a big investment for a small business just getting their start, but having a strong brand initially will save a lot of time, money and the hassle of a rebrand down the road. Today we are sharing five reasons why it is important to work with a professional design agency when choosing a designer for a brand identity. From expertise and experience to consistency and professionalism, there are many benefits of partnering with professionals when creating a brand identity.
01 A professional agency brings years of experience and expertise to the table
Working with a professional design agency can be beneficial for several reasons. When you are first getting a brand off the ground, it can be tempting to create your own logo in Canva, hire someone for cheap off of Fiverr, or have your friend that knows Photoshop do it for you. These can be great resources, but your overall brand is one of the most important elements of your business as it creates the first impression for your audience. You often have seconds to convince your audience to gain interest in what you are offering so you want it to be well thought out, and carefully designed. Hiring a professional brings years of experience, strong foundations of design principles, credentials and more to the table. They will be able to provide strategic guidance and advice on how to develop a brand that resonates with your target audience and differentiates you from your competitors.
02 Professionals have access to professional tools, better resources, and educated perspectives
Whether you hire a freelancer or a design agency, a professional graphic designer will likely have access to a wide range of design tools and resources beyond the cookie cutter assets you see on popular do it yourself sites. Fancy tools and software may not necessarily make or break a design but they can with the help of a professional ensure that your brand identity is of the highest quality and that what you are creating is original work. Trained designers can also provide a fresh perspective and bring a level of creativity and innovation to the branding process that you may not have thought of before. Whether you hire a professional or not its always good to get insight and constructive criticism from others to understand how a genuine audience will interact with an idea or visual surrounding a brand.
03 Hiring a pro will save you time and money in the long run
Although it is an initial investment, hiring a professional design agency can save you time and effort up front by managing the entire branding process from start to finish. This can free up your time to focus on other aspects of your business, such as developing a business plan, sales, marketing and more. It will also start you off on the right foot with a solid foundation so you won't have to ultimately rebrand down the road.
04 It provides you with peace of mind that what you are creating is quality
Working with a design agency to develop your brand can provide peace of mind and confidence that your identity system is in good hands and will be professionally executed. This can help ensure that your business has a successful launch and makes a lasting impression on your potential clients.
05 A strong brand creates consistency across all of your marketing materials
The last reason we suggest working with a professional when creating an identity system is to help ensure that your brand is consistent across all of your marketing materials. Having a cohesive look is important because consistency helps to reinforce your brand message and allows audiences to easily recognize the business. At Wolfe Creative, we offer brand identity style guides which outlines logo usage, colors, typography, and other design elements to be used in your marketing materials. This can help ensure that your brand remains consistent and recognizable across all of your marketing channels and is a really helpful tool for future design projects. You may need to work with multiple designers over the years and this ensures the branding stays consistent regardless of who is creating materials.
If you want to take your brand to the next level, it's important to work with a professional design agency. At Wolfe Creative, we bring our expertise, experience, and design knowledge to the table to create strong and effective brand identities. Whether you are just getting started or need a brand overhaul we are here to help – setup a
discovery call
today and take the first step towards a stronger brand identity.