05 Aug

3 Reasons You Should be Using Pinterest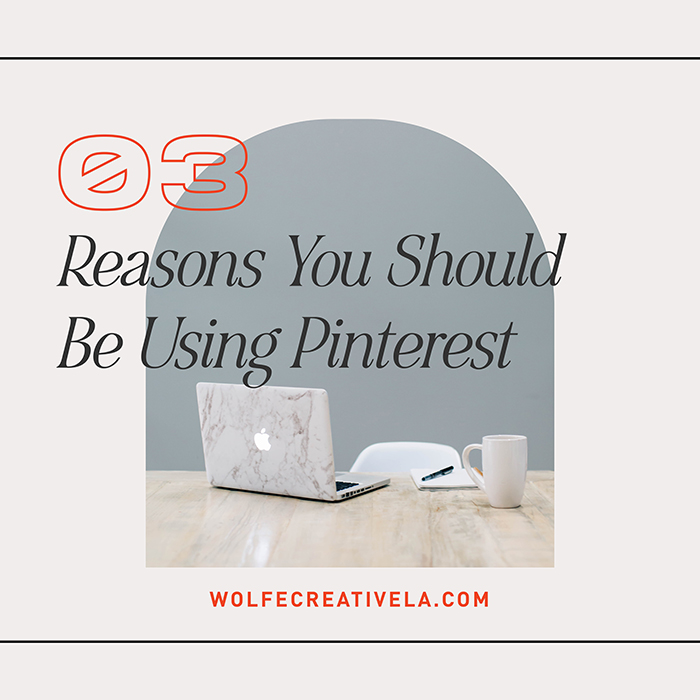 It's hard to know where to split up your time, budget and effort when it comes to social media marketing. We can't do it all so it's important to figure out what methods and social channels work for your business and which ones aren't worth investing in. As a creator and business owner, I am a huge advocate for using Pinterest when it comes to marketing on social media. Here are three reasons why you should be using Pinterest to market your business today.
01 Pinterest works like a search engine so followers don't really matter
It can be so frustrating when you are putting a lot of time and effort into creating high quality posts and they only get a handful of likes and a small overall reach. Many social channels only show you content from your following list with ads sprinkled in but Pinterest acts like more of a search engine than anything. Your home feed shows pins from creators you follow but Pinterest really focuses on the search feature where you can search a keyword or phrase and it will show you all relevant content regardless of who you follow. This can help you find better and more refined content as a consumer but it really comes in handy as a creator. Even if you only have 100 followers on Pinterest, your reach can easily be over half a million if you find the right combination of media, keywords and hashtags.
02 You can easily create backlinks to your website, e-commerce store, Etsy shop, and more.
Building good SEO for your website takes up a lot of time and effort to update content, write blog posts (like this one), running ads, etc. One great way to boost your site's SEO is by creating backlinks to your website. Pinterest is a great way to build these links and reach a much wider audience that will hopefully click through to your website.
03 You don't have to post all day everyday to be successful
There are so many social media trends to keep up with these days it's insane. With Tiktoks, Instagram Reels, Static Images, Idea Pins and more it can really feel like a full time job to run a company's social media. To be successful on some channels you have to crank out a large amount of content, post multiple times a day, engage with your followers, go live, post to stories – see where I'm going with this? It's too much! I love Pinterest because you can post a pin and forget about it and it will keep working for you years down the road. Three years ago I posted a Halloween costume inspiration pin and every fall like clockwork my impressions jump to 600k without me putting in any extra effort. If I post one or two pins regularly (but not daily) my engagement and overall analytics improve at a steady rate. It's a great way to grow your business without having to devote your entire life to social media.
Pinterest is an amazing tool to grow your business whether you're a freelancer, small business owner, have an Etsy shop, are an influencer and more. If you aren't using the platform already I highly encourage you to start! It's a great source of inspiration, easy to use and really fun watching your stats improve over time. We use it here at Wolfe Creative Temecula to grow our business and love it as a marketing tool for our clients. If you have any questions on how to get started with Pinterest let us know!